Conference & Trainings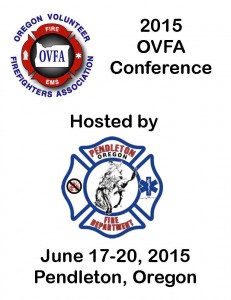 Conference brochure includes class descriptions, registration costs, Lifetime Achievement nomimation form and Firefighter of the Year nomination form. Please carefully review the requirements for classes to ensure you are prepared for conference. Please contact staff at 503-378-0896 with any questions.
Registration forms can be submitted by email, fax (503-364-9919) or by mailing to 1284 Court St NE Salem, OR 97301. Class assignments will be given in the order that registrations are received.
Scholarship applications are due June 1, 2015.
The golf event is a fundraiser for the OVFA Relief Fund and involves advance registration and an additional fee beyond the conference.
Additional Class Flyers
Swift Water Rescue – Skills Sheet-SAMPLE
Swift Water Rescue Release Form- 2015
Explosive Device Recognition – Student Agreement Sheet
Explosive Device Recognition – Info Sheet
Explosive Device Recognition – Info Sheet #2