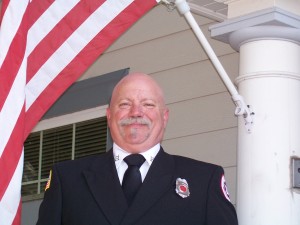 I want to thank the membership of this Association for their continued support of our organization. Without your involvement, we wouldn't be here. All of us on this board can look to our friends, families, and fellow firefighting brothers and sisters and be thankful for that support.
As we look at where we are, we can see that we continuing work to do. One of our goals we set was to have regional training made available to the volunteers throughout the state. As we work toward that training goal we are still faced with the need for secure funding resources.
One of those sources is still the tax check off exemption that has continued to remain stalled in the House Ways and Means committee. We will again this session, coming up after the first of the year, be pushing ahead with that fight for exemption to allow the resources necessary to fund those additional regional classes, as well as much needed relief funds for injured and fallen firefighters.
Another of the goals we look to work on is the EMS/EMR tax credit for volunteers. I'd like to see the mileage limitation changed from a miles from a population center, to an EMS service boundary without regard to the distance, so long as the volunteer is EMS/EMR certified.
We will continue to strive to keep our annual conferences as inexpensive as possible through the use of local trainers and their associations. We again want to thank the local fire departments and training association from Lincoln County that allowed the use of their instructors and their stations and facilities.
Another revenue source we are looking into is additional corporate sponsorships. California Casualty has a long-standing history in being one of those sponsors.
And we are always looking for additional ambassadors to the board. As we look forward to next year's conference in Pendleton, we can always use more contacts in hat part of our state.
Rex Parks
OVFA President and volunteer with Cloverdale