OVFA 2015/2016 Board of Directors
~~REX PARKS, PR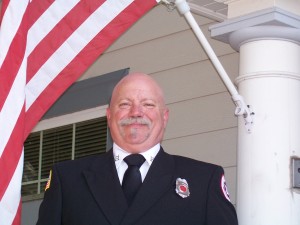 ESIDENT Rex is a volunteer officer with Cloverdale RFPD. Located just east of Sisters, the Cloverdale district covers approximately 50 square miles of rural farm, ranch and agricultural lands with approximately 1500 single family dwellings with approximately 3500 full time residents.
This includes two major east/ west arterial highways, 126 on the north running between Sisters and Redmond, and highway 20 on the south between Sisters and Bend. With an increasing amount of traffic passing through their district, the volunteers are called upon to assist on many traffic crashes throughout the year. Rex joined the fire service in 1996, attended his first OVFA Conference when it was held in Bend in 1998, and has been a regular attendee every since. Taking classes to move from firefighter and apparatus operator to a company officer, the OVFA's annual conference, local training opportunities, attending the National Fire Academy in Emmetsburg, Maryland and the Winter Fire School at DPSST, have all been a vital part of his training curriculum. While attending the annual conference in Coos Bay in 2002, Rex was asked to and accepted a position as an ambassador for the OVFA board. He has been steadily working his way up to his now position as board President.
Rex's regular job started out in the Bend ODOT shop as a heavy equipment mechanic in 1988. In 2003 he became the Heavy Equipment Field Technician for ODOT at Santiam Junction and Detroit.
Rex also enjoys hunting, having served as an executive officer with the Oregon Hunters Association in Bend. He is very active in volunteer work for wildlife enrichment and enhancement of hunting opportunities throughout the central portion of the state. Rex would like to see that fire and EMS volunteers are recognized for their work in the communities in which they serve. To that end he'd like to get the volunteer EMS tax credit mileage limitation changed so that all volunteers are given that credit, regardless of their location in relation to a larger city. He also wants to see a stable income source found for the association so that more training can be offered throughout the state, as well as the relief fund have better assets.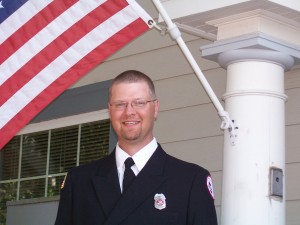 ~~KIRT HICKEY, 1st VICE PRESIDENT Kirt applied for the position of Ambassador and was elected as a two year Director with the OVFA in 2011. He has been a Volunteer Firefighters with Hermiston Fire and Emergency Services District since 2006. He has served as Secretary, Vice President and President of the Hermiston Firefighters Association. To pay the bills he works as A Correctional Officer with the Department of Corrections. He is married to Stella, his wife of 7 years who supports and works alongside him in his volunteer activities. Together they have four young daughters. He has earned the rank of Eagle Scout with the Boy Scouts of America and spends some of his free time helping Boy Scouts. He has a love of outdoor sports such as fishing, hunting, camping and a good round of golf. He believes every firefighter deserves to have access to great training and hopes during his term of service on the OVFA board to build solid training opportunities for all firefighters.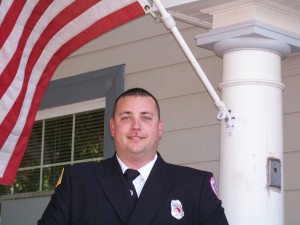 ~~JASON SERVATIUS, 2nd VICE PRESIDENT Jackson County Fire District 3. Jason is a Firefighter/EMT with Jackson County Fire District #3. Jason is a third generation firefighter. His grandfather helped to form the volunteer fire department in Jerome, Idaho and his father started as a volunteer in Idaho as well, later becoming Fire Chief at Central Point Oregon and then Deputy Fire Marshall of JCFD#3 following his retirement. Jason became involved in 1999 as a student firefighter with JCFD#3 when he was 17 years old and became a volunteer firefighter with JCFD#3 in 2000. He was named Volunteer Firefighter of the Year in 2007. He has also served as a board member and president for the JCFD#3 Volunteer Executive Board. Jason would like to see more districts and departments work together with paid staff and volunteers so that everyone has the same opportunities. As an OVFA Board member, he hopes to help recruit more volunteer departments and ambassadors, and help OVFA grow to serve more communities. Jason is married to Amanda Servatius. He enjoys hunting, fishing camping, cooking and bowling.
~~DAVID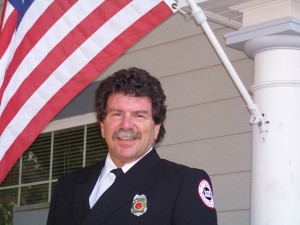 SELLERS, IMMEDIATE PAST PRESIDENT David is currently a volunteer with Nestucca Fire, located on the Oregon coast. David has been a member of the OVFA since 1987 when he started his volunteering with what was then Washington County Fire District #1- Engine Co. 259. Two years later the District became Tualatin Valley Fire and Rescue when it merged with Tualatin Rural Fire District. David was a volunteer with TVF&R till September of 2003. In April 2004 he became a volunteer with Hillsboro Fire and Rescue and was there until March of 2011. David attended his first OVFA conference in June of 1988 hosted by Tualatin Rural and has missed only one conference since that time. He says that being a part of OVFA for so many years and having received so much that it was time to give something back and accepted a position on the Board in 2009. He has served on the Board as a Director, 1st Vice President and now President. He is currently serving on the Governor's Fire Service Policy Council and the Burn Center Advisory Committee, representing OVFA. David, and his wife Denise, have 4 children and 2 grandchildren. Chelsie, his oldest is married and living in El Paso, while her husband Paul is currently deployed to Kuwait. The other 3 children, Jessica Cody and Devin are still at home. David's real job is being an insurance agent with Farmers Insurance Group for the last 26 years. He also keeps busy with being the Scout Master for his boys' troop, helping coach baseball, and serving in his church. His goals as a member of the OVFA Board are to try and help more Departments across Oregon come to realize the value in being members of the organization and to help the OVFA become an even bigger part in helping their departments and the communities they serve.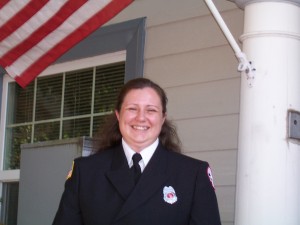 ~~STELLA HICKEY, SECRETARY/TREASURER Stella has been in the Fire Service since 2007 when she founded the Hermiston Fire Corps Program, a volunteer support services organization. Stella started out in 1998 in pursuit of her EMT-Basic the first step on her way to becoming a Paramedic/ Firefighter but a serious back injury left her unable to finish pursuing that dream. In 2005 she married Kirt Hickey, who a year later became a volunteer firefighter with Hermiston Fire and Emergency Services District. In 2009 she accepted the position of Oregon Fire Corps State Advocate and began the running of the State Fire Corps program. In 2011 she hosted the first State Fire Corps Conference in Gresham, Oregon. In 2014 she became a member of Estacada Rural Fire District No. 69. Along with her duties as a State Fire Corps Advocate, Stella is also a Member of National Fire Corps Speaking Bureau. Stella believes that a successful firefighter has a strong support system. She desires to help develop workshops and training in Oregon to target firefighter's health and family. Fall of 2015 she will pursue her dream of becoming an EMT. She looks forward to helping strengthen the OVFA in any way that she can.
MARK BARKER, 2 YEAR DIRECTOR ~~Photo & Bio coming soon.
ZACK WILSON, 1 YEAR DIRECTOR ~~ Photo & Bio coming soon.
2014/2015 OVFA Board of Directors (Picture Below)