Welcome to our site!
Fighting Wildland Fires:

​Oregon Volunteer Firefighters Association does not dispatch firefighters, however we work to put you in touch with the needs of your community. During the summer season, local departments partner with private contract fire crews to help with the wildland fires of Oregon and Washington.

Private contractors provide an array of firefighting resources to ODF(Oregon Department of Forestry) and its sister agencies during the wildfire season, including hand crews, bulldozers, helicopters and air tankers. Wildland fire crew contractors hire and train firefighters for deployment to wildfire and incidents throughout the Pacific Northwest. Some of these assets and services are made available through state or regional interagency purchasing agreements, while others are secured by local agreements at the district level. ​Persons interested in fighting fire on a hand crew should contact the wildland fire crew contractors directly. More information available on the State of Oregon website:

Click Here



Interested in helping with the wildland fires in Oregon. Please contact a Wildland Fire Contracting company if you are trained and ready to assist. If you do not have current fire fighting training, please check your local fire department website to find out what type of help is needed from citizens. Donations of water is always gladly accepted.

---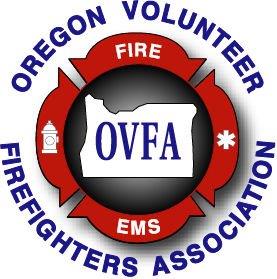 The Oregon Volunteer Firefighters Association represents emergency medical technicians, (EMT) and firefighters across Oregon. Our membership is comprised of both volunteer and combination (paid firefighters working with volunteer responders) fire agencies. Some of these are special fire districts while others are city fire departments. Almost without exception they are training to the National Fire Protection Association (NFPA) level of FF I. We of
fer to our membership a number of benefits including the Relief Fund, educational grants, training & equipment grants, our annual firefighters conference and recruitment & retention information. The OVFA also tracks legislation that effects volunteer first responders through out Oregon and is also a member of the National Volunteer Fire Council (NVFC). Please contact the OVFA office should you need additional information.
---
Join Us! Join the OVFA Board at the next board meeting, Saturday, September 30, 2017 at the Oregon Fire Service Center, 1284 Court St NE, Salem, OR 97301. This meeting is scheduled to take place following a fundraising event in Woodburn, tentative start time is 6:00 p.m.
---
Oregon Volunteer Firefighters Association appreciates the partnership with California Casualty and are happy to share about the Work Hard, Play Hard sweepstakes. For more information, click on the image below.